It's getting closer, just under 4 weeks to the Marathon!! The nerves are definitely starting to kick in!
At this point in training it would be wise to start considering your race strategy regarding pace, nutrition and hydration. Possibly you have one long run left, so take this as an opportunity to try out your gels, sports drinks, foods and fluids.
Something else you may be considering to do prior to the race is "Carbo Loading". In this blog I will attempt to explain the science behind this principle along with offering different alternatives and a sample meal plan. I would absolutely recommend that you take some time to ponder on the following positives and negatives of such a regime!
Carbo Loading was devised to increase glycogen stores in muscles to capacity. For any sports over 90 minutes in length this is very advantageous as we start to run out of fuel around this time. Glycogen recovery takes on average around 20 hours depending on depletion, muscle damage and intake,therefore tapering and resting are a very important part of the carbohydrate loading principle!
Carbo loading will in effect help you have the energy to run for longer, combine it with carbohydrate intake immediately before and early into the marathon you should have no problem having the fuel to finish the race in style!! This should help you avoid "HITTING THE WALL" on the day and aid a quicker recovery. Please remember that although you will also use fat as a fuel during the race you cannot rely on this solely as a fuel source as it is a very slow burner and fat cannot be utilised by the body WITHOUT the presence of carbohydrates!! So in effect no carbs no running!
There are 3 different ways to carbo load all scientifically proven to work in males unfortunately for the fairer sex it seems to be less effective! However us females should not discount it altogether but rather try it out in training, as effectiveness tends to be very individual..
The original 6 day pre-race regime started in the 1960's at the start of the sports science era….it combined 2 bouts of glycogen depleting exercise separated by 3 days of low carbohydrate intake, followed by 3 days of no exercise with a high carbohydrate intake. As seen in table 1
Table 1: Classic Carbo Loading
[table]
Day, Training, Diet
1, Exhaustive prolonged exercise, Normal,
2, Taper, Low Carb High Fat High Protein,
3, Taper, Low Carb High Fat High Protein,
4, Exhaustive prolonged exercise, Low Carb High Fat High Protein,
5, Taper, High Carb,
6, Taper, High Carb,
7, Taper, High Carb,
RACE DAY,
[/table]
Unfortunately this approach interferes with tapering and rest and many athletes were left feeling tired and irritable on the low carbohydrate diets. Therefore it would certainly be my advice for you all NOT to try this classic protocol!!
Due to the difficulties of the initial carbo loading principle, modified approaches were developed that put less of a strain on the athlete, in the week prior to the race. This modified version appears to have the same results as the classical one in terms of increasing glycogen stores but allows for tapering without reducing carbohydrate intake. This is a 6 day tapered training approach with a normal diet on first 3 days following by high carbohydrate on the last 3 days pre race.
Table 2: Modified Carbo Loading
[table]
Day, Training, Diet
1, Taper, Normal Diet,
2, Taper, Moderate Carb,
3, Taper, Moderate Carb,
4, Taper, Moderate Carb,
5, Taper, High Carb,
6, Taper, High Carb,
7, Taper, High Carb,
RACE DAY,
[/table]
Most recent research has shown that neither the low carbohydrate diet or the depletion phase are needed to achieve maximum glycogen stores and in fact just eating a very high intake of carbohydrate on one day prior to the race after an intense 3 minute training session will also increase stores to maximum.
Therefore the following third option is probably the most easily adapted to suit a week of taping and rest prior to the race. This protocol as outlined in table 3 is the easiest to implement and does not involve any depletion exercise. I would certainly recommend the following protocol if you are considering doing a carbo load. The interesting part of this protocol is the final day, which is to perform just one 3 minute bout of high intensity exercise followed by the day of a very high carbohydrate intake. You can of course just do day 7 on its own but the combination of the week would be more effective.
Table 3: 1 day Regimen
[table]
Day, Training, Diet
1, Endurance run for 1 hour, Normal Diet,
2, Taper, Moderate Carb,
3, Taper, Moderate Carb,
4, Taper, Moderate Carb,
5, Taper, High Carb,
6, Taper, High Carb,
7, 1 x 3 minutes high intensity exercise, Very High Carb Low fat Low Fibre,
RACE DAY,
[/table]
How Much Carbohydrate Do I need to EAT??
Moderate carbohydrate intake: 5-7g of carbohydrates to 1kg of body weight
High: 7-8g of carbohydrates to 1kg of body weight
Very High: 8-10g of carbohydrates to 1kg of body weight
So for example if I am 70kg then I will be looking to eat around 420g under the moderate diet, 560g under high and 700g for the very high diet of carbohydrates daily.
PLEASE NOTE: For each gram of glycogen stored the body will store 3 grams of water so be prepared to gain about 1-2kg in body mass after a carbo loading protocol, on the plus side however think of all that stored hydration! If you decide to do the carbo loading then please try this out in training first!!
So what does this mean in terms of food?
In the days leading up the race you need to choose low glycamic index foods so basically complex carbs and wholegrains. Try and keep your diet as healthy as possible including as many vegetables, legumes and wholegrains. Choose good quality lean protein such as lean meats, eggs and fish. If you have a problem with fibre in a race then reduce you fibre intake 2 days before the race. Below in the table is an example of a 1 day pre event loading plan, it is a lot of food so try and space out your meals to little and often rather then large amounts at a time. Again this is just an example of what you would need to plan on that day and doesn't account for all the different tastes and diets out there!!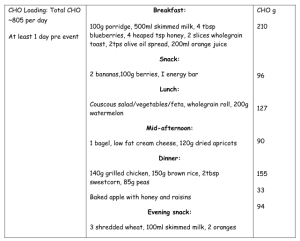 Final Word:
If anyone decides to try out the loading protocol please don't hesitate to contact me at info@kleiner.ie. and I'll try answer any of your questions!!! I can also give out some macronutrient food tables that will be helpful when trying to calculate your food/carbohydrate intake! I am also attaching a wholefoods information sheet along with some recipes that might also be useful! My next blog will be next week on tapering and its effects on the immune system, many people find in this time they pick up colds and flues, so I will endeavour to fill you in on all the foods you can take and some supplements that will help build your defense systems!
Good luck everyone and let me know how you get on!!
Click here for Wholefoods Presentation
References: Anita Bean, Complete sports nutrition and Louise Burke, Practical sports nutrition